CAR WRAPPING LONDON
Skinwrap is a London based car wrapping company with a team of professionals that are passionate about their job.
For over a decade, we have been providing customers with high-quality car wrapping services. We offer a full range of premium vehicle wrap films from globally trusted vinyl manufacturers such as 3M, Avery Dennison, Oracal, Hexis, Teckwrap and many more.
Whether you need automotive graphics for your company or to upgrade the appearance of your vehicle, we have the expertise and inventory to meet your needs. From window tinting to full vehicle wraps, you can count on us.
CAR WRAPPING LONDON SERVICES
As a car wrapping company, we service both private and commercial customers in London and the surrounding areas. We pride ourselves on delivering a high-quality service at a competitive price.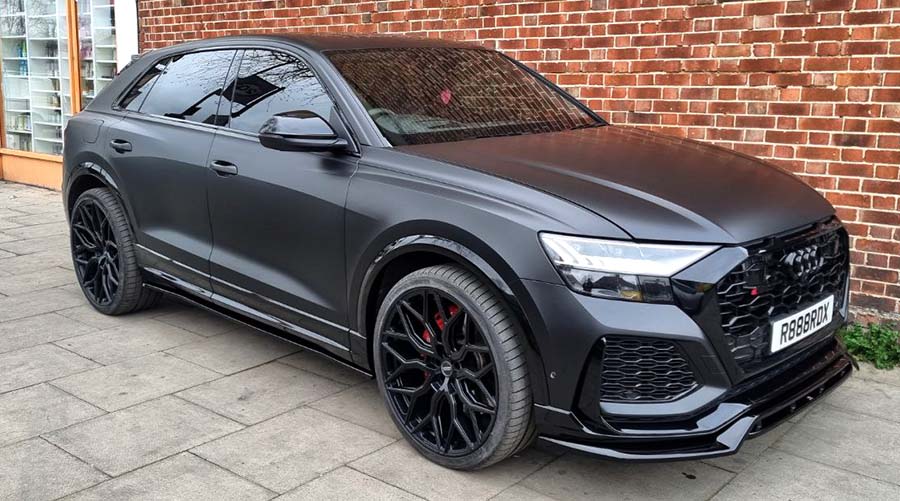 With more than 15 years of experience in the industry, we are your one-stop-shop for any and all of your car wrapping needs. We can help you with corporate branding, vehicle branding and van signs. We are able to provide both full vehicle wrapping and partial vehicle wrapping services - including side stripes and wheel branding. We also provide wheels renovation, window tinting, paint protection film application and more - no job is too big or too small for us!
With us you will get a complete package for all your transport or commercial vehicle needs.
Our services include:
Full or partial car wrapping
Interior wrapping
Dechroming
Vehicle branding
PPF (paint protection film) application
Ceramic coating
Detailing
Windows tinting
Light tinting
Wheels renovation
Calipers painting
Body kit
WHY CHOOSE CAR WRAPS LONDON FROM SKINWRAP
Here at Skinwrap we have wrapped thousands of vehicles over the years, and we are still growing strong. We offer an array of customization opportunities for various types of vehicles, and our installers are all experienced professionals.
We are dedicated to our clients and always want to make sure that their expectations are exceeded - every time. From the moment you pick your design, to the finished product, we will work tirelessly to ensure that your car is wrapped with care and perfection.
We are punctual and detail oriented and we keep your vehicle pristine during the car wrapping process. From start to finish, we'll take care of all your needs.
Client Says
What Our Clients Say
I highly recommend Raphael and his very professional team to wrap and tint your vehicle. They provide a 10/10 customer service and quality of finish. Their prices are fair, and they go over and beyond to ensure you get the result you want.
My expectations were exceeded by the job done. Raphael was professional, very kind and very well spoken. I recommend Skin Wrap Greenford for anyone who wants a very well detailed wrap on their car. I'm going back for some more wrap in the near future.
I had my car wraped at this place and i can't even say how happy i am with the service ! They have been very talkative on instagram and always quickly answered any question I had . The car looks immaculate and i will definitely only go to this place for any more work . They are the best!
Absolute world class service by the SkinWrap team. The advice and patience given by Rafal to go through the entire process from design to choosing wrap colours was second to none. Even the attention to detail on the grey wrap I got done on my car was impressive. This made a huge difference to the overall experience! Happy customer and will be coming back for future wraps & tints!
Thank you SkinWrap Team!
Have used SkinWrap for multiple vehicles and they have never dissapointed. They helped us create the design we want and finished it with a great quality wrap!
SkinWrap are the ultimate in professionalism, they are providing a top class service with the final result of pure quality. I had work done on my car to get a customised look and cannot thank them enough for the end result.
I have been using SkinWrap for few years now and they amaze every time! Quality and attention to details is outstanding ! Im always happy to bring the car over to SkinWrap - amazing place!
Highly recommended!!!
Great service! Amazing team and work done to the highest professional level.
This is the place if you want real quality work! Helpful and friendly staff. 100% Recommend.
CAR WRAP LONDON
Our readers and prospective clients may also be interested in what wraps have been used to cover such a luxurious car. As it may be expected, the best vehicle around requires the use of best car wraps around. Therefore, we have chosen the ones made by the 3M Company (Black Satin), as well as those offered to top customers by the AVERY firm (Black Chrome). Even we have been surprised how well the combination of the said two types of covers looks. However, it must be pointed out at this point that wrapping the car has not been an easy task. Extreme care has had be exercised while covering the lower part of the limo with the Black Chrome, as such an undertaking can be performed by professionals equipped with top quality tools and wrapping devices only. It is especially caused by the fact that even though it looks truly beautiful while attached to the car, during the process of its attachment, the wrap is highly susceptible to physical damage, stretching, tearing, and scratching. Therefore, it has to be applied on the body with utmost care and only meticulous experts can do that without causing any damages. We are glad to say that we have managed to perform our task perfectly as no tears, stretch marks, or uneven edges are visible on the vehicle, even while inspecting it very closely and carefully. As you can see, we do our best to meet the requirements of the client and perform our job as efficiently and professionally as humanly possible.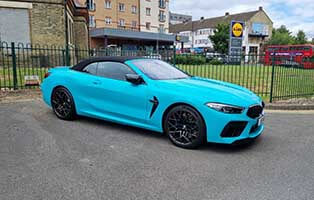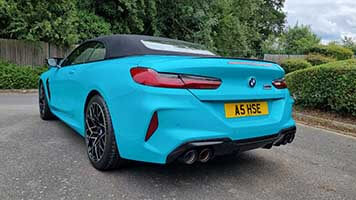 If we were asked what the most demanding part of our work was, we would have to say that we had to struggle a bit with the grill of the Rolls Royce. Unlike grills installed in other, more typical and less luxurious cars, the one being a part of the vehicle we are talking about incorporates of several dozen parts and small elements that not only have to be removed in a particular order, but also installed in the reverse order step by step. Any mistake or order change could have caused significant problems, but fortunately enough – our experts have approached the said part of the car with a proper care, disassembled the grill, and ordered the parts to install them in the desired order later on. Such an approach has turned out to be effective and fruitful, so we are more than sure that it will be taken advantage of when yet another Rolls Royce is entrusted to us. We hope that it will happen soon!
We would also like to inform both our prospective and regular customers that we treat the car as a whole and do not limit ourselves to car wrapping London only the visible, outer parts of the body only. In the case of the Rolls Royce Wraith Coupe entrusted us, we have also decided to cover the inner parts of the doors, as well as the interior of the trunk with the appropriate wrap. The aim here has been to create a complete look and to avoid situations where the exterior of the car looks different than its interior. As it can be easily guessed, such a situation simply cannot happen while it is all aboutsuch an exclusive limo as a Rolls Royce. Imagine a black suit that is grey or bright white on the inside – you would surely not be willing to wear it, especially during important meetings, as it would show your total lack of taste and sense of fashion. The case is very similar with cars – an original paint color on the inside combined with a wrap on the outside can ruin the first impression made by stepping out of the one-of-a-kind Rolls Royce.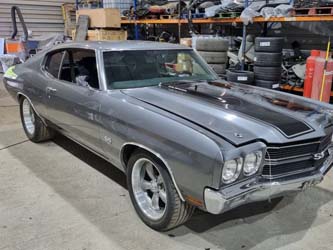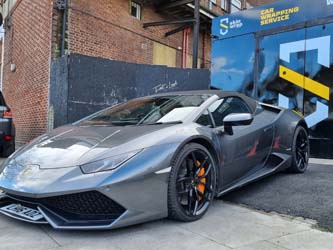 To sum up, we are more than glad that we have had the opportunity to take care of such a stunning and luxurious car. We can ensure all the owners of top class vehicles that we perform all the wrapping-related undertakings meticulously and in compliance with all the best practices followed in our branch of industry. Therefore, if you would like your car to look as beautiful as the Rolls Royce customized by us, just give us a call and we will make even more breathtaking than ever before! What is more, do not hesitate to familiarize yourself with the full offer of our company and check what the SkinWrap Company can help you with! We will be honored to improve the look of your beloved vehicle!
It must be said that it is not an usual thing to be asked to wrap a Rolls Royce, especially its more luxurious and unusual Wraith Coupe model. That is why we have decided to look under its bonnet, as well as check the interior of that automotive masterpiece. All the fans of the Rolls Royce Company surely know that the discussed vehicle is powered by a V12 engine that sounds beautiful and brutal at the same time. In our opinion, it resembles, to some extent, the roar of F1 racing cars. Every single part utilized to create this powerful, 624 HP engine has been made with attention paid to every single detail…and it shows. The case is very similar with the interior of Rolls Royce Wraith Coupe, as it incorporates a number of solutions and gadgets that are not – and probably will not – be present in other limos. Let us just say that the inner roof of the vehicle looks like a 3D model of the night sky. It is beautiful and calming to look at. We can only imagine how astonishing it is to be driven around by the chauffeur around the city after an important meeting and be able to lean back, look at the small lights in the roof imitating starts, and just relax…or take a sip of the most expensive champagne from time to time. You know what they say – it is the privilege of the rich and important people!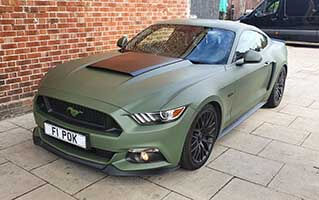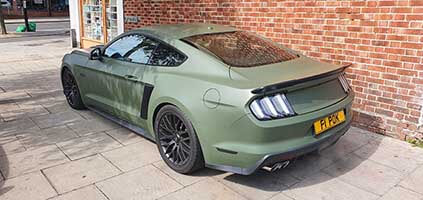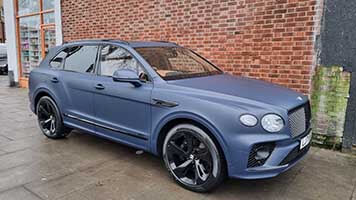 Nevertheless, let us put all the exceptional features of the car aside and focus on the most crucial thing for us, namely – the car vinyl wrap London it has been covered in. It must be said without a doubt that the color combination chosen by our customer has turned out to be a perfect mix. Some may say that it would have been just enough to select Black Chrome or Black Satin to cover the car only, but we know that if the stunning look of a Rolls Royce is at stake, there should be no compromises, limitations, and shortcuts, as there are no shortcuts to exceptional style. The colors in question beautifully accompany and complement each other. We think it is even sensible to go as far as to say that the current color is remarkably more breathtaking than the factory-made one. Of course, it is only our opinion and some automotive industry fans may disagree with us!
Now, we would like to familiarize you with most important steps taken to properly and professionally cover the Rolls Royce discussed above in vinyl wrap London. You must know that at the very beginning, the limo has been divided into two major parts: the upper and the lower one. We have included the bonnet, roof, trunk, and body side moldings in the former category. They have all been covered with Black Satin wrap and constituted the basis for further works. The lower part of the vehicle, namely – all the bumpers, panels, and the grill, have been covered in Black Chrome in order to become more distinct and to draw the attention of every single pedestrian and driver to the true and unique beauty of the car. There obviously has been the possibility of combining colors in a different manner, for example by dividing the car in half vertically or horizontally, but we think – and many of you will surely agree with us – that it would have been an unforgiveable sacrilege. In our humble opinion, a limo should always stay a limo, and all the color changes should be gentle, as well as non-intrusive, in order not to destroy the initial beauty of the vehicle. That is why we have decided for such a division of the body of the Rolls Royce Wraith wrapping.
CAR WRAPPING NEAR ME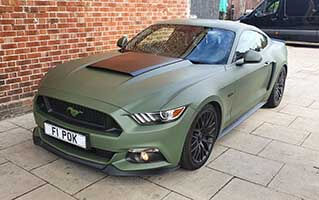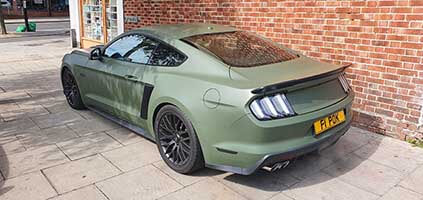 Go-to destination for premium car wrapping services in the UK. Transform your vehicle with our expert team of professionals who specialize in car wrap installations. We offer top-quality car wraps near you, ensuring meticulous attention to detail and a flawless finish. With our extensive range of colors and finishes, we provide the finest car wrapping near you. Enhance your vehicle's appearance and protect its paintwork with SkinWrap exceptional car wrap solutions.